Have you ever felt you were being watched? It may not be paranoia. In celebration of our latest release, the world's most notorious literary marathon brings you a special night of storytelling, featuring two very different perspectives on the art of spying in New York.
Details:
Saturday, September 19, 7 p.m. – 9 p.m.
Free admission
KGB Bar, 85 East 4th St., New York (Google map)
RSVP to the Facebook event.
FEATURING
Loud People by Todd Lamb
3-Day presents a rare screening of Loud People, a short series by Brooklyn-based writer and filmmaker Todd Lamb. Loud People features actual overhead NYC cell phone conversations, re-enacted by comedians from 4Track improv and set to music by Tortoise. Over the course of a year, Lamb and his assistants eavesdropped on and transcribed more than 100 conversations to find the bizarre and very real moments featured in this hilarious piece. With an introduction by George Basil, a member of 4Track and a regular performer at the Magnet Theater.
AND
The Videographer by Jason Rapczynski
Jason Rapczynski reads from The Videographer, the newly released winner of the 31st Annual International 3-Day Novel Contest. The Videographer follows a film-school dropout who finds work taping street fights and setting up spy cams in I-95 rest stops. His plans to escape the grasp of his enigmatic boss are sent spinning when a pre-teen runaway shows up at his door, claiming to be his daughter. As her arrival triggers a series of events that are eerily similar to a script he wrote years earlier, the videographer must uncover the truth about who is really under surveillance.
Hosted by Lila MacLellan, NY freelance writer and editor and MFA student at the New School.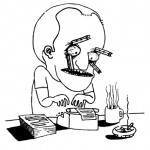 Survivors of the 32nd Annual 3-Day Novel Contest are encouraged to come out! This is a great opportunity to meet up with fellow entrants and compare experiences.
Contact: info@3daynovel.com