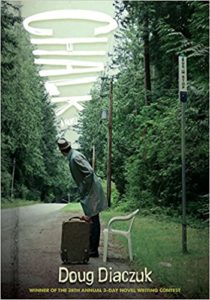 We would like to congratulate Doug Diaczuk on being shortlisted for a Northern Lit Award for his 2015 winning novel, Chalk.
Chalk is a tender story about love and loss, following a broken-hearted thirty-something cubicle worker, free-falling from every ledge of his life. Post-break-up and blue, he feels like nothing matters, that he has become invisible, like a chalk outline on the floor, empty inside.
You can read a section of Chalk here.
Put on by Ontario Library Service-North in conjunction with Northern Ontario Public Libraries, the Northern Lit Award will recognize the outstanding contribution Northern Ontario authors make to Northern culture.
For a full list of the shortlisted titles and to learn more about the Northern Lit Awards, check out their website.
You can purchase a copy of Chalk through Anvil Press.