Today we're throwing it back to 1978 with an excerpt from an unfinished novel from the first 3-Day Novel Contest. The following originally appeared in Geist 42 in fall 2001.
The First 3-Day Novel Writing Contest took place on Easter weekend, 1978, after a challenge issued by Pulp Press operatives in the Piccadilly bar on Pender Street. There were eight entrants and no winner. Chapter openings from the unsuccessful entrants appeared in Vol. 4 No. 17 of 3-Cent Pulp, "in order to encourage the others," and the 3-Day Novel grew into its present ascendancy (it is currently administered by Anvil Press in Vancouver). Here is the opening scene of Terrible Things, the unfinished novel written by D.M. Fraser for the first 3-Day Novel Writing Contest.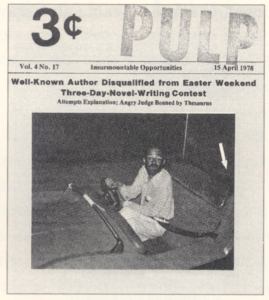 Terrible Things
Bullshit, Shedden thought as they sat around the stripped-oak farmhouse table, the wood stove crackling sentimentally, Mozart on the stereo, the lasagna rapidly translating itself into heartburn.
For one thing, it is most of the time simply impossible to know one's students intimately or even at all, since they rarely want to be known and more rarely know how to be known. For another thing, such knowledge if miraculously vouchsafed is nonetheless in clear contravention of the rules governing faculty-student behaviour at Stillbourne College, with severe penalties applicable to any and all partners in transgression. For yet another thing, it was plain to Shedden that there was very little of interest to learn about Matt Tyler, and nothing that could not have been deduced logically instead of empirically. Throughout the dinner, Matt had kept his large, eloquent eyes firmly planted on Annie's tits, which became increasingly prominent as she toyed abstractly with the upper strings of her peasant blouse. Throughout dinner, too, Matt had discoursed at length on field goals, running backs, and other technicalities in which Annie inexplicably acquired profound expertise, and about which Shedden neither knew nor cared a hoot in hell. Matt barely touched his lasagna, thinking no doubt-as Shedden supposed maliciously-that it was just a fancy version of the TV dinners he'd fed his childhood on. We should have had hamburgers, Annie thought.